Introduction to ARES
Founded in 2010, Advanced Rail Energy Storage (ARES) has developed, tested and patented rail-based, gravity-powered energy storage technologies that are more environmentally responsible, durable, and cost-effective than other utility-scale storage alternatives. ARES technologies use no fossil fuel or water, produce zero emissions or hazardous waste, and have a 40+ year service life with no degradation or thermal runaway.
Rail-Based Gravity Storage
Energy can be stored in many forms such as chemical energy (batteries), thermal energy (heat), kinetic energy (flywheels) and potential mechanical energy (hydro). Similar to hydro, ARES uses the potential mechanical energy available due to gravity.
The figures below demonstrate how rail-based gravity storage works, at a basic level.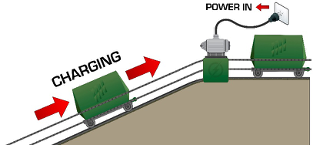 Figure 1:  Electricity is pulled from the grid to turn a highly efficient electric motor lifting a heavy mass car uphill.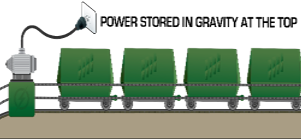 Figure 2: The mass car at maximum elevation resulting in maximum potential energy.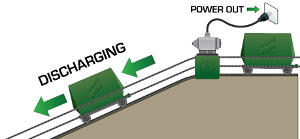 Figure 3:  Electricity is re-produced as the mass car is lowered turning the reversible motor backwards and acting as a generator of power.
Battery Challenges
Degradation
Flammability
Environmental
Social
Batteries, including lithium-ion batteries, are electro-chemical devices that are susceptible to chemical side reactions and degradation of their power capacity, energy capacity, and efficiency. A main driver of these problems is temperature – batteries are sensitive to both high and low temperatures. At high temperatures, side reactions are accelerated and the risk of thermal runaway of one or more battery cells is increased. At low temperatures, the formation of dendrites – essentially stalagmites – is promoted, causing more internal resistance and possibly resulting in separator perforations and electrical shorting. These phenomena can lead to explosions and fires.
Pumped Hydro Challenges
Siting
Environmental
High Site Impact
Gravity-powered energy storage is not new. Pumped-storage hydroelectrical plants, which pump water from one reservoir to another, have been providing utility-scale storage since the 19th century. Currently there are more than 100,000 megawatts (MW) of pumped storage hydroelectric plants operating worldwide. But with restrictions on the availability and use of water, dam construction, and other environmental concerns, it is difficult to construct new pumped-storage facilities. This is occurring at a time when the need for energy storage is skyrocketing, especially due to the increased reliance on carbon-free intermittent renewable energy supplies such as solar and wind.